At Stephen Marshall Design we are empowered by our process. We take pride in developing strong relationships with our clients. We are inspired to create better living through exceptional design.
"You and your staff were able to capture our ideas and turn them into reality. We are very pleased with the design, colors and materials used. It is now a joy to use this beautiful space." - Residential Client, Edmonds WA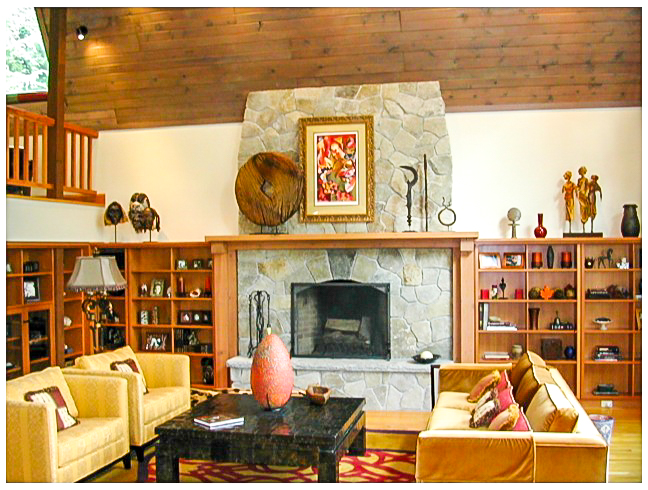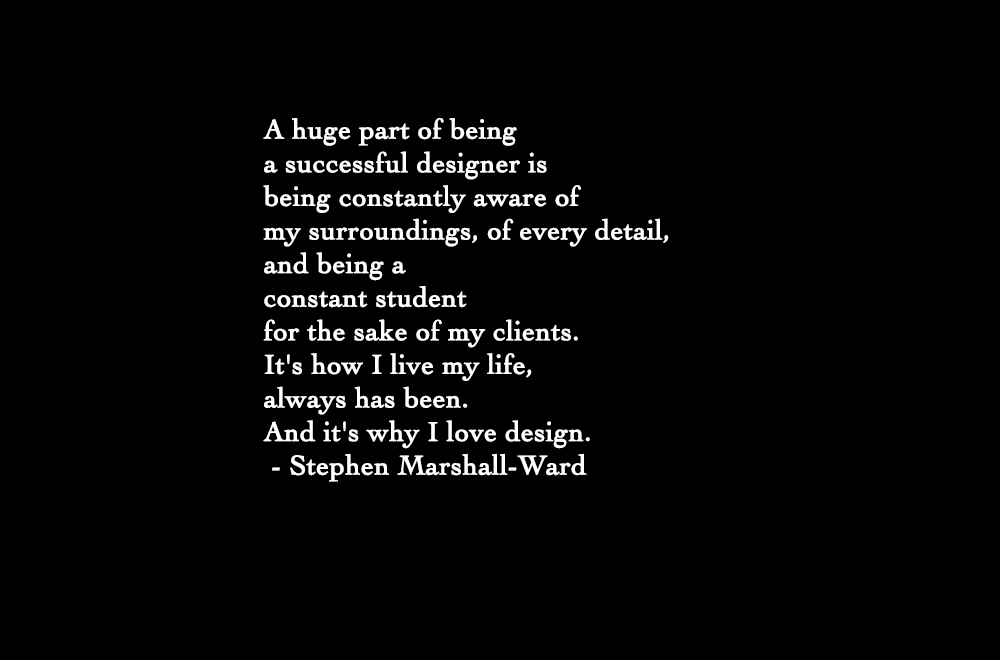 See what our clients have to say…
OUR DESIGN PROCESS
Stephen Marshall Design is small, focused, and highly receptive to your story and style. Every experience working with us is customized to your unique desires and requirements for your space. We take your visions and turn them into realities you can live, work, play, and dream in.
With over 16 years of experience working on homes, businesses, and sacred spaces in the Pacific Northwest, Stephen and his team are passionate, competent, and will work with you to create an end-result you will love.
A FULL SERVICE DESIGN COMPANY
Stephen Marshall Design provides residential, church, and commercial design including remodels, additions, and new construction. We're confident working with individuals, families, committees, and teams.
Space Planning

Interior Design Master Planning

Exterior Design Master Planning

Out-door Living Space Design

Garden Design

Presentation Drawings

Color and Finish Consultation

Custom Furniture Design
We offer the following services:
Custom Flooring Design

Architectural and Custom Lighting

Furnishing Layout Plans

Selection and Specification of Furnishings

Installation and Site Observations

Artwork and Accessory Selection

Computer-Generated Model of Design Concept

Aesthetic Creativity & Innovative Design
MEET THE TEAM
Stephen Marshall-Ward is SMD's principal designer. He took an interest in design at a very early age and has more than 25 years of experience in the field.
Myrna Morey is SMD's associate designer. She began working as an Interior Designer after a successful career in the salon/spa industry, and joined SMD in 2001.
Emily Hipp Johnston provides office and media support, bringing project management skills and organizational, technical, and design expertise to the team.
Jeff Philakham is SMD's design assistant. He started this position in June 2019 and is finishing up his interior design degree from Bellevue College. He works on floor plan and elevation renderings, tile design plans, and communicates with clients.
POULIN CONSTRUCTION – KITCHEN, BATH & MORE
Are you looking for an outstanding contractor to see your project to completion? We love working with Greg Poulin. Poulin Construction is a general contracting company performing new construction and repairs/restorations. The company was founded by Greg in 1996 because of his love for remodeling, restoring, and his desire to have a more hands on role in residential construction. Poulin Construction has also operated a cabinet dealership since 2002. Visit their cabinetry division, Kitchen Bath & More Seattle, to learn more.
WHAT OUR CLIENTS SAY
"It has been a pleasure working with Stephen. Having seen the end results of his projects, his knowledge of working with committees, people and organizations and his grasp of the total picture, I highly recommend Stephen to work with any group. His wonderful sense of humor is another asset with all the challenges any large project involves." - Church Committee Member, Seattle WA
"Stephen Marshall-Ward and Myrna Morey are consummate professionals when approaching a design project. Their combined knowledge will assure that your project is done with great skill and care. The way they approach a project is to sit down with an individual, family, or committee and take some extended time to really find out who you are and what is most important to you. They have crafted a process that gets at the nuts and bolts of a potential project to make sure the final outcome is something much more than a client would believe. I highly recommend Stephen Marshall Design, Inc. You will not be disappointed." - Professional Colleague
"Stephen has an incredible eye. He took two awkwardly shaped spaces in our house and created all the pieces needed to come up with a comfortable area in our house that was originally unused and now is a cherished place for us to rest and read. Everything he offered was in the interest of beauty, practicality, and doing all within a reasonable budget. What I like about Stephen is that at no time did he force his design aesthetic on us, but really could take what we were trying to do with our home and merge it with his design skills and gifts. Each step of the way, he would explain why something worked and educated and empowered us, which enabled us to make any changes later. I'd highly recommend Stephen for any interior design or design work generally. Plus, Stephen is really fun to work with. Laughter and love was part of each of our exchanges." - Residential Client, Seattle WA
"We used Greg Poulin Construction for a kitchen remodel and it was a fantastic decision. We had a general idea of what we wanted, but his ability to translate that into an actual plan was fantastic. He and his crew were professional, creative, flexible, and so easy to work with. Their timeline and bid were realistic, although they also were willing to add some deviations to both timeline and bid as needed. We also appreciated the services of Stephen Marshall design, who helped us pick out cabinets, tile, flooring and paint and saved us hours of agony by bringing relevant samples to the house. We will certainly call on these folks again for any remodel needs we may have in the future." - Residential Client, Seattle WA
We'd love to hear from you! To contact Stephen Marshall Design, please use our contact form.
To see some featured projects, please check out the Projects.
To see all SMD photos, please check out the Gallery.